How do you follow up making the most successful surf movie of all time? You turn your cameras inland and make a movie about motorcycles, of course!
As unconventional as that may sound that is exactly what California film maker Bruce Brown did and in doing so made another classic that set standard that all other motorcycle films would be judged.
Brown began his project in 1970 after a nearly five year hiatus from making surf films. He had completely financed, filmed, edited and distributed the Endless Summer and was looking to doing his next film on a larger scale and at less personal financial risk.
So, again what do you do? You simply call up one of the biggest stars in Hollywood and ask him to finance your next movie. Brown called Steve McQueen who was already well known for his auto and motorcycle racing skills.
As told by Bruce Brown:
"I talked to a few folks and knew that Steve McQueen was a rider," Brown said. "Even though I'd never met him, I set up a meeting to talk about doing 'On Any Sunday.' We talked about the concept of the film, which he really liked. Then he asked what I wanted him to do in the film. I told him I wanted him to finance it. He laughed and told me he acted in films, he didn't finance them. I then jokingly told him, 'Alright, then, you can't be in the movie.'
"The next day after the meeting, I got a call and it was McQueen. He told me to go ahead and get the ball rolling with movie — he'd back it."
With the backing of McQueen's Solar Productions Co. Brown was literally off to the races spending the next year filming motorcycle events of all kinds both in the U.S. and abroad.
Part of the film's focus is on Mert Lawwill the then defending AMA Grand National champ of 1969 wearing the number one plate on his Harley Davidson. Racers had to excel in a variety of disciplines racing the mile, half-mile, short track TT and road racing. This required riding many different bikes on both dirt and pavement. Often the riders worked on their own bikes going so faros using razor blades to customize the tire treads based on conditions.
Other famous riders seen vying for first place are AMA hall of famers Dick Mann, Gene Romero and Dave Aldana. Most of the racers ride British bikes like Triumph and BSA. They are seen in all their glory right before Japanese bikes would go on to nearly takeover the sport.
Here Brown's cameras are often right in the thick of the race using specially made POV cameras to capture the speed, noise and danger from the rider's perspective. Throughout the movie Brown uses a variety of techniques to capture the sound and the action whether from the air, from the riders' view or using a telephoto. This type of filming may be common place now using light weight digital Gopro cameras and drones, but this was very difficult to successfully achieve in the time of bulky film cameras.
Bruce Brown was a self taught filmmaker and had a DIY ethos that helped solve problems from outside the box and push the conventional boundaries. One famous example is when an expensive high-speed camera was unavailable. Brown simply substituted a 24volt battery instead of a 12 volt to make the camera crank faster. Brown also effectively uses slow motion at just the right moments to show the grace and flow of road racing as a counterpoint to the close quarters chaos of the flat track.
It's also during the races that we see some horrific crashes where riders are often inexplicably riding next to jagged picket fences on torn up dirt tracks. Most of the riders walk off their falls even though they are only protected by single layer of racing leathers over a t-shirt and most wear open face helmets.
The competitive drive and spirit of the racers is revealed over and over as they lay it all on the line week after week. You can sense the respect Brown has for the riders who don't earn much money and still go on the track sometimes while wearing casts on recently broken bones. The most outrageous example is a rider with a broken back that soaks the cast off in a bathtub and races with just a brace.
In contrast to the pro racing circuit On Any Sunday also follows phenom Malcolm Smith who rides desert, motorcross and enduro events. Whereas Mert Lawwill can be seen as a calculated guided missile hurtling into turns on the track, Malcolm Smith's riding in open country appears more relaxed and improvisational. He must be flexible dealing with the various terrain and obstacles as it comes. These hazards can be anything from mud holes, cliff edges and giant wasps. Throughout it al Malcolm makes subtle corrections and speeds to multiple victories. Brown's cameras also follow Malcolm and his Husqvarna to Spain for the International Six Day Trials. The ISDT is one of the most physically demanding events held in a variety of terrain that involves racing to make check points at exact intervals followed by skills testing that demands near perfect performance from man and motorcycle.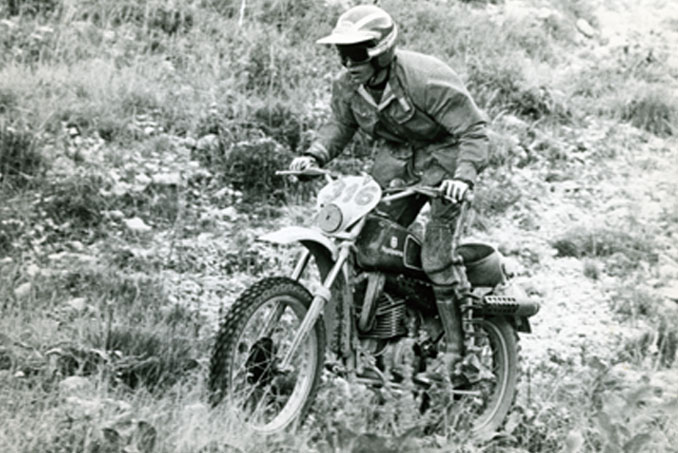 The third featured rider is an amateur named Harvey Mushman which we soon find out is an alias used by Steve McQueen. He uses the fake name so he can race without incurring the wrath of movie studio execs out to protect the star of their next movie. McQueen is seen just a regular guy in during his sequences and rides very well finishing in the top ten at the Lake Elsinore race which had a field of over a thousand pro and amateur riders.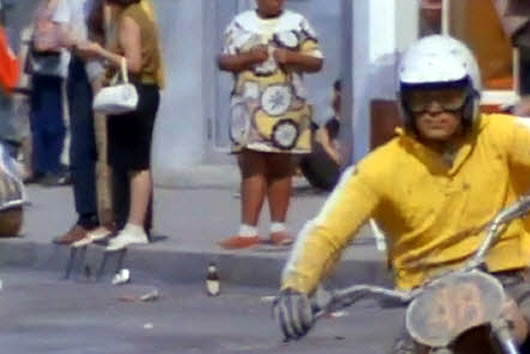 Interspersed in the racing action is Brown's central theme that motorcycle riders, contrary to the image of the outlaw gangs sensationalized by the press in the late 60's, are good people from all walks of life. They just want want to spend their weekends outside riding their bikes for the pure enjoyment of it all. Whether they are gathered with friends and family for a race or just out for a ride, they are all basically enjoying the freedom and the wind in their face. We also get to hear Brown's narration which is understated, but includes his "dad humor" that often has a sly twist.
On Any Sunday is enjoyable to watch for both hard core motorcycle fans and the average viewer alike. Probably the best testament to this was the film's 1972 Academy Award nomination for best Documentary. Also nominated that year was Thor Heyerdahl's film about the voyage on the Ra, but both inexplicably lost out to a forgotten film that predicted insects would soon take over the world.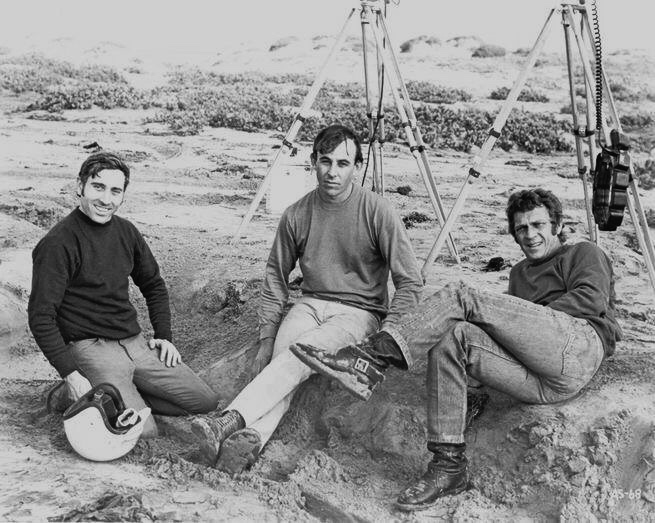 As you can probably see by now we love "On Any Sunday". Just like "Endless Summer" it is a film made with pure respect for the sport and it's unsung riders. It is also a time capsule of a halcyon time of motorcycles, racing and life in California. Among the now classic bikes, we see that there is still plenty of open space to ride and the urban sprawl hadn't yet displaced many of the famous racing tracks like Los Angeles' Ascot. We also see some of the very first BMX riding before anyone knew what to call it. The film's popularity is credited with spreading the new sport and favorite kid's pastime from coast to coast.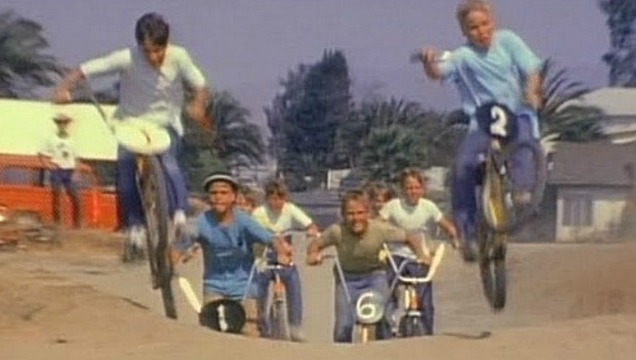 Long before before the invention "Extreme Sports", energy drink sponsorships and Youtube clips the professional racers in the film do it (at great risk) much like the kids in the vacant lot do it all purely for the love and the thrill of riding.
The last scene of On Any Sunday brings it all home as Mert, Malcolm, and Steve all stars in their own right have a blast on their motorcycles in sand dunes by the beach- just three friends at the end of the weekend having fun, joking together and then riding off into the sunset.
*You can purchase On Any Sunday at Bruce Brown Films website or find it free on several streaming services.